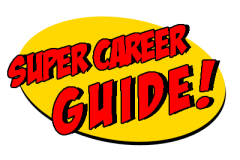 Super Career Guide is the ultimate super online magazine that's designed to cover education sector in India.
We are a group of experts and youngsters that launched this magazine to make a difference in India's education news sector.
Our magazine is:
of the students
for the students
by the students
Following major things, we are trying to do and achieve:
Get quality, useful, valuable, accurate and relevant information to students in time.
Answer all students' queries, doubts and questions related to career, job and education.
Track the latest in Education sector in India and around the globe.
Get the best guidance from the education experts in India and around the globe.
Cover students' issues, problems, news, views, and reviews in India.
Following adjectives describes us:
Unbiased
Trustworthy
Quality Content
Effective
Detailed
Relevant
and Engaging
As of now, we are a small team of 5 people. If you have any queries or if you want to join our student ambassador groups then feel free to email us at team@supercareerguide.com