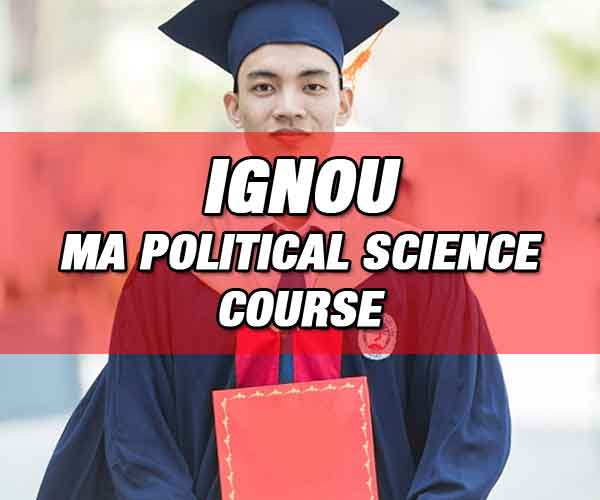 IGNOU MA Political Science is one of the most-sought after courses. Get all the relevant info about the course here. 
The total duration of Masters in Political Science at IGNOU is 2 years consisting of total 64 credits. However, you get 5 years to complete masters. 
There's no maximum or minimum age cap. However, you are required to meet basic eligibility criteria, which is – any graduate from UGC recognized university. 
Each year hundred thousands of students in India apply for the course. 
The course is vast and in-depth, which makes it difficult. Therefore, each year many students fail the exams in it. 
Notably, after course completion, there are lucrative opportunities available in news media, teaching, research, writing etc. 
In addition, most of the government entrance exams for jobs have political science subjects as a major part of the course, which makes this course a preferred choice. 
In this post, we will cover in detail all important aspects of IGNOU MA Political Science course. 
We covered from important information about the course to the admission process, study material for download, previous year question papers, and much more. 
Introduction to IGNOU MA Political Science Course
| | |
| --- | --- |
| Course Duration | 2 Years |
| Maximum Years to Complete Course | 5 Years |
| Delivery Mode | Distance learning |
| Total Course Fee | Rs. 10,800/-  |
| Fee Structure | Rs. 5,400/- paid year wise  |
| Eligibility Criteria | Any graduate from UGC recognized university/college/institute |
| Medium | Hindi and English |
| School | School of Social Sciences (SOSS) |
| Total Credits | 64 (32 credits each year) |
IGNOU MA Political Science Admission Process 
Following is the step by step instructions to take admission in IGNOU MA Political Science course: 
1. Visit the IGNOU Admission portal:
https://ignouadmission.samarth.edu.in/index.php/site/index
2. Click on the 'New Registration' button
3. Fill up the registration form accurately (follow the instructions given carefully)
4. After successful registration comeback to the link in first step
5. Login using the your registered email id/username and password
6. Fill up the online application accurately
7. Upload scanned copies of required documents in prescribed size and format
8. Review and confirm application
9. Pay fee online for the application and course
10. Keep both soft and hard copies of receipt for future use
11. Submit the application successfully
12. Check your admission status
Eligibility Criteria of IGNOU MA Political Science
Any graduate (bachelor's degree) from a recognized university.
Please check your college, institute or university accreditation on competent authority websites such as UGC, AICTE etc. 
There is no minimum marks requirement. Therefore any pass graduate in any course can easily apply.
IGNOU MPS Syllabus & Download Study Material PDFs
Students get to study political theories, comparative politics, international relations, public administration, bureaucracy, Indian politics and government. 
Following is the detailed syllabus of IGNOU MA Political Science: 
10 Years Previous Year Question Papers
IGNOU MA Political Science Assignments
Assignments are the compulsory component and integral part of your course and evaluation. 
Moreover, Assignments carry 30 percent weightage in your evaluation rest 70 percent is for exams.
In addition, if you want to appear for the exams, it is mandatory to submit the assignments. Otherwise, you won't be allowed to appear for the exams in the session. 
The assignments have to be submitted before exams at your regional center to your coordinator within the deadlines. 
For each session – June and December – IGNOU updates the assignments on its official website here: https://webservices.ignou.ac.in/assignments/ma_polsci.htm
Important instructions about assignments: 
Make sure you write full name, enrolment no., signature, and date on the top right hand corner of the first sheet.

Write programme name, programme code, course title, assignment module code and name of the study center on the top left hand corner of the first sheet. 
Exam Time Table of IGNOU MPS
The term-end examinations for the MA Political Science course at IGNOU takes place twice a year in June and December sessions. 
You can appear in any of the sessions as per your convenience provided you've completed the minimum period of the course. 
Moreover, the term-end exams carry 70 percent, which are very crucial for your overall percentage. 
In order to appear for the exams, you will need to submit the assignments and apply before the last dates for June exams (30th March) and December exams (30th September). 
The online submission for exam fee is Rs. 120/- per module, which you will need to pay on IGNOU exam portal here: https://exam.ignou.ac.in/
If you wait to secure a minimum pass score, which is 40 percent, then you can again reappear in next term-end exams. 
Eligibility Criteria for Term End Exams at IGNOU
You are required to fulfill the following eligibility criteria in order to appear for Term-End exams: 
Paid course fee

Submitted the assignments for the modules

Submitted the examination form online

Paid the exam fee

Printed out admit card and IGNOU student ID card
IGNOU MA Political Science Course Coordinator Contact Details
Professor S.V. Reddy
Email: svreddy@ignou.ac.in
Ph. 011-29572733
Professor Jagpal
Ph. 011-29572729
Professor Darvesh
Address: School of Social Sciences IGNOU Maidan Garhi, New Delhi-110068 
E-mail: dgopal@ignou.ac.in
Students are recommended to contact their coordinator at the study center for timely response and resolution of their queries. 
Download PDF of IGNOU MA Political Science Programme Guide
If you find the post relevant and valuable, then please, don't forget to share it with  your friends. 
For any questions, feel free to use the comment box below, we would love to help you.